African Wildlife Adventure
Departed 3rd Dec 2020
14 nights
Sails from Cape Town
Boudicca
D2029
This cruise has now set sail.
×
Cape Town, South Africa
Dec 03 - 04 | Depart - early evening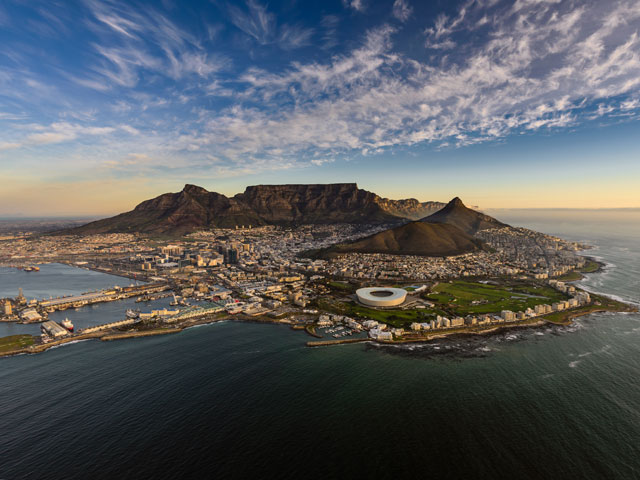 Cape Town brings together cultures, cuisines, and magnificent views: a stunning city crowned by the magnificent Table Mountain National Park. A city that is defined by the flat-topped mountain it sits beneath, Cape Town is known for its lively Victoria & Alfred Waterfront and harbour, serene vineyards and impressive landscapes. This picturesque 'city bowl' on the shores of Table Bay, is best seen from the top of Table Mountain – accessible via cable car.
Cape Town is a rich melting pot of people, and a proudly multicultural centre. Given it was World Design Capital in 2014, creative art and design is unsurprisingly never too far way. Exploring the city is a pleasure, and the attractions include the historic Company's Gardens, Kirstenbosch Botanical Gardens and Green Point Park.
Away from the urban centre, winelands such as Stellenbosch and Franschhoek offer a distraction of a different kind, while at Cape Point National Park boasts breathtaking coastlines and whale watching opportunities. Visitors can also learn of Nelson Mandela's inspirational life and legacy at Robben Island, or perhaps spend a memorable evening watching the sunset at Signal Hill.
Share Itinerary
Gqeberha (Port Elizabeth), South Africa
Dec 06 | Arrive - late night | Depart - late afternoon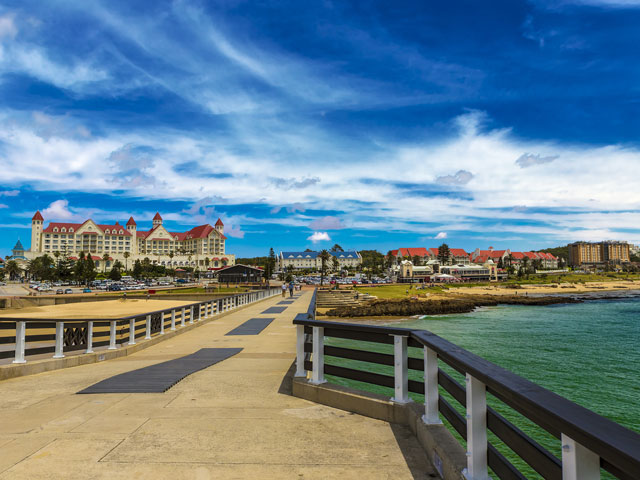 Steeped in history and known for its incredible weather, Gqeberha provides the complete South African experience. On the fringes of Algoa Bay at the western end of the Sunshine Coast, the area is renowned for its diverse marine life, sublime beaches and top water sports.
Founded in 1820, much of the city's history is evident today in the architecture of Fort Frederick and the Campanile Bell Tower – both part of the Donkin Heritage Trail that allows visitors to follow in the footsteps of the original 1820 Settlers on their journey of discovery and settlement.
From its darker past, Gqeberha is now the place to meet people and easily lives up to its nickname, the 'friendly city'. Most things in the centre are on tap: bars, music, art and photographic spaces – all part of constant clash of cultures. The Nelson Mandela Metropolitan Art Museum at the entrance to St George's Park has a small gallery of paintings and sculpture by contemporary South African artists, and is a real treat to view.
Nearby, the Addo Elephant Park offers the chance to encounter the rare Addo Elephant, among a variety of other game, while a safari experience at the Kariega Game Reserve takes visitors in search of the 'Big Five'. The 54 hectare Settler's Park in the city centre is a nature lover's paradise, boasting the most beautiful flora and fauna.
Share Itinerary
Durban, South Africa
Dec 08 | Arrive - late night | Depart - late afternoon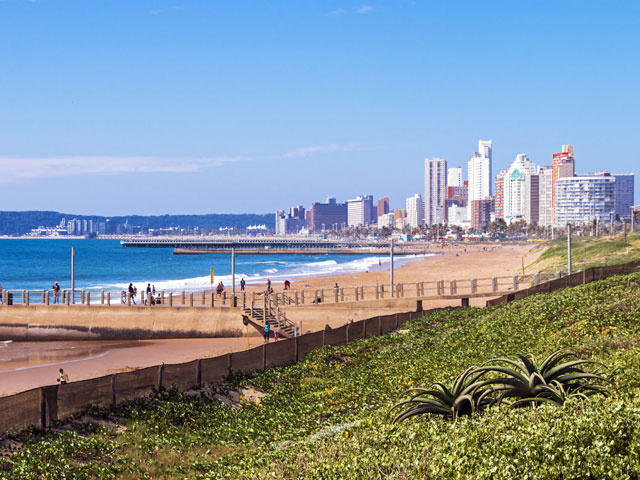 The largest port city in South Africa, Durban, is busy, vibrant and one of the continent's most popular tourist destinations.​
Durban is blessed with balmy weather all year round and has an incredible stretch of beach, the Golden Mile, which boasts wonderful views of the idyllic Indian Ocean and many restaurants and bars to enjoy. This paradise offer an amazing contrast of cosmopolitan city life with a close proximity to the Valley of a Thousand Hills, where the Zulu drum still beats.

The regeneration of the waterfront area has helped shake off the city's sleazy image and has given it a new confidence and ambition. This seafront promenade runs from uShaka Marine World and Aquarium to the futuristic Moses Mabhida Stadium.

Durban is also a shopper's paradise with quality shopping malls, craft markets and street bazaars. The fascinating Afro-Indian culture is very evident in the city, and much of the local cuisine has an Indian influence.
Share Itinerary
Mamoudzou, Mayotte
Dec 12 | Arrive - early morning | Depart - early evening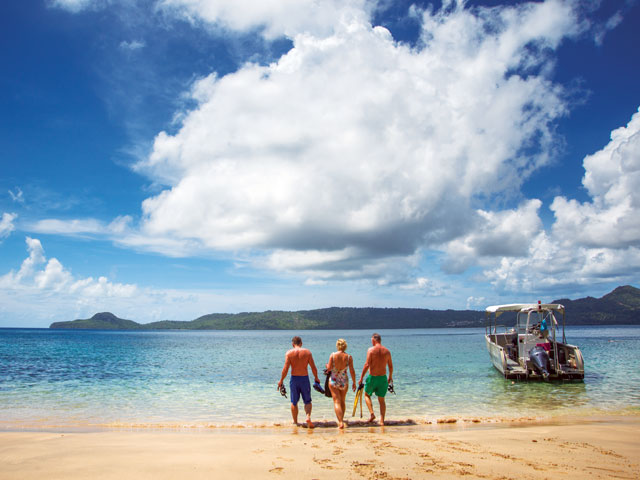 Anchor Port
- A small boat or 'tender' transports guests from ship to shore.
Learn more
Mamoudzou is the capital of Mayotte, a beautiful French overseas department in the Comoros Islands archipelago. Located on Grand-Terre, the main island of Mayotte, the city is a gateway to the region's spectacular sights and cultural delights.
Boats dot Mamoudzou's charming harbour, and the nearby Marché Couvert market sells fresh, local produce and handicrafts. Landmarks include the white minaret of Mtsapéré Mosque, and Notre-Dame de Fatima church, while the nearby beaches of Trévani and Plage du Phare are perfect spots to relax.
Situated in the Mozambique Channel of the western Indian Ocean, some 190 miles northwest of Madagascar, Mayotte is comprised of two beautiful islands: Grand-Terre and Petit-Terre. A natural paradise, the island is home to the largest lagoon in the Indian Ocean, boasting over 250 different species of hard coral, schools of tropical fish, while turtles, dolphins and whales – all ripe for an unforgettable snorkelling or scuba diving adventure.
The wondrous landscape of Mayotte includes an amazing network of lush mangroves and humid rainforests. Grand-Terre features stunning volcanic landscapes, marked by deep ravines and soaring ancient peaks, and many hikers scale the spectacular heights of Mount Benara, Mount Mtsapere and Mount Combani.
Share Itinerary
Hell-Ville, Andoany, Madagascar
Dec 13 | Arrive - early morning | Depart - early evening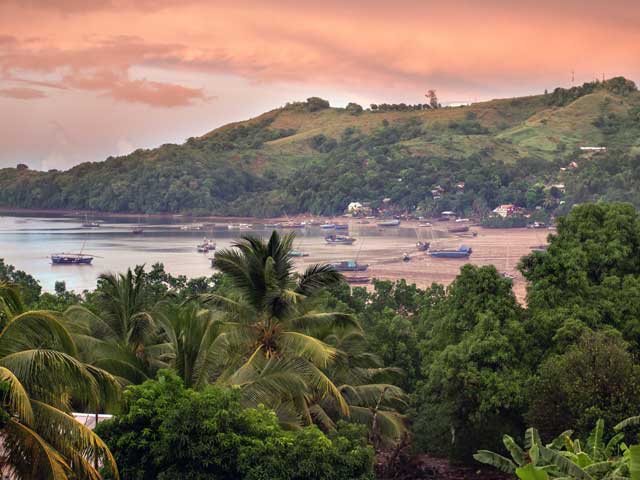 Anchor Port
- A small boat or 'tender' transports guests from ship to shore.
Learn more
Formerly, and more commonly, known as Hell-Ville, Andoany is the capital of the beautiful Madagascan island of Nosy Be. Andoany is anything but hellish; the name actually derived from Admiral de Hell's former governorship. Warm and welcoming, the city boasts fine colonial architecture, busy markets and a pretty harbour. It's also a gateway to the island's stunning rainforests, fascinating wildlife and sun-kissed beaches.

Bordered by mile-upon-mile of glorious golden sands, Andoany is one of the most popular beach resorts in the Indian Ocean. In the town, fragrant frangipani and bougainvillea appear to prop up the ruins of its old colonial buildings, and the upbeat pavement cafes bustle with tourists. The Société de Rhum Arrangé offers local rum in 20 flavours, and Le Jardin des Sens is a beautiful old house selling locally-produced honey, spices, soaps and skin creams.

A stroll around the historic city also reveals the Russian Monument, erected in the memory of Russian soldiers that drowned off the coast of Nosy Be in 1904, and the Oceanographic Museum, where the island's native sea creatures can be viewed up close.

Smothered with dense tropical rainforest, Nosy Be is ideal for watching diverse wildlife in its natural environment. The sprawling Lokobe National Park is home to an abundance of endemic fauna and flora, and is an unmissable gem. The unmistakable calls of Grey-backed and Mouse Lemurs echo through the tree canopies, chameleons merge seamlessly into the unspoilt environment, and boa constrictors snake along the leafy forest floor.
Share Itinerary
Antsiranana (Diego Suarez), Madagascar
Dec 14 | Arrive - early morning | Depart - late afternoon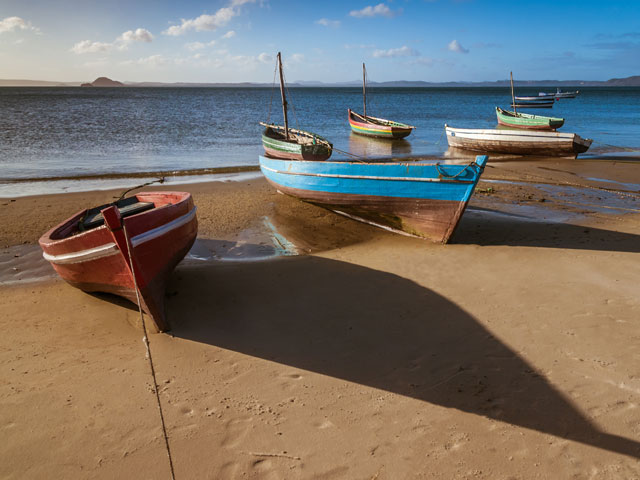 Antsiranana, aka Diego Suarez, is a port city in northern Madagascar in Antsiranana Bay, a vast natural harbour made up of several smaller bays.
Smothered with French colonial charm, Diego's streets are lined with traditional architecture and are home to large markets selling an abundance of fine local produce and hand-made crafts. The pace is slow and nearly everything shuts between 12pm and 3pm while locals indulge in long siestas.
Away from the bustle of the markets, the lighthouse, cathedral and the ruins of the Hôtel de la Marine are worth exploring. The delightful local delicacies in Diego's many fine restaurants can also be enjoyed. Alternatively, a trip to the island's breath-taking north coast offers stunning views of Sugarloaf Mountain or the eponymous Island, which is considered sacred by locals. South of the city, the untouched landscapes of two large National Parks are waiting to be discovered.
While the waterfalls, crater lakes and breadth of fauna and flora at Amber Mountain National Park are wonderful, a sighting of the Madagascar Fish Eagle – one of the world's rarest birds of prey – is the much sought after prize. At Ankarana Special Reserve, birds, lemurs and the 150-million-year-old Jurassic limestone formations are the key highlights.
Share Itinerary
Victoria, Seychelles
Dec 16 - 17 | Arrive - early morning
Surrounded by turquoise swells of the quietly rippling Indian Ocean, and sprinkled with dense forests and tall hills offering breath-taking views, Victoria, on the Seychelles island of Mahé, is the epitome of paradise.

The port is one of the smallest capitals in the world and offers visitors a number of highlights to discover. The colourful Sir Selwyn Clarke Market sells spices, fruit, art and souvenirs. Near the Cathedral of Our Lady of Immaculate Conception is the imposing La Domus, built in 1934 to house Catholic missionaries, while the quaint old courthouse has a clock tower that is a replica of Big Ben.

The island's pristine, golden sands are best seen from the top of Morne Blanc, which delivers breath-taking panoramic views across the lush landscape. Seychelles National Botanical Gardens showcases endemic palms and orchids, as well as giant tortoises and fruit bats, and is worth a visit.
Share Itinerary
Unfortunately, this cruise will not be going ahead as planned.
We are aware that if you are sailing with us, you will have many questions about what these cancellations mean for you and we will be in touch as soon as we can.
We are likely to be very busy in our call centre over the next few days. Please bear with us, there is no rush for you to make a decision. We are working very hard for you and promise that we will deal with each and every one of your questions as soon as we possibly can.