If you're considering a Fred. Olsen cruise, or have already booked your holiday with us, and are wondering what a day on board our smaller, friendlier cruise ships looks like, you'll find all the information you need below.
Daytime Activities
Start off your day right with a tasty breakfast; the choices include everything from healthy fresh fruit and cereals to a heartier full English. You can even choose to have a delicious continental breakfast delivered directly to your room, if you don't feel like getting out of bed just yet. Whichever food you pick from our breakfast choices, every dish will be prepared by our dedicated expert chefs.
Throughout the day, our on board team make it their mission to satisfy out guests' spectrum of interests with a range of entertaining activities.
Feeling active? Walk a mile around the deck and meet other cruisers, or take part in a yoga, pilates or dance class taught by qualified instructors. Just want to relax? Our library is filled with interesting books that you can enjoy peacefully with a speciality coffee or tea from The Bookmark Café. If you feel like relaxing, catch some sun by the pool, or soak in the jacuzzi. For total relaxation, book a treatment in the soothing surroundings of the Atlantis Spa, refreshing both your mind and body.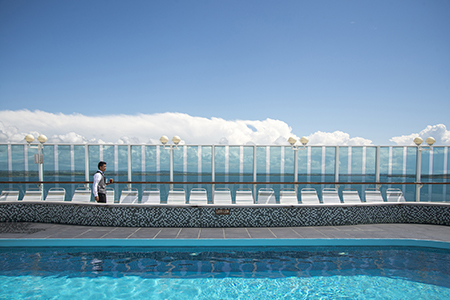 When there is an arts and craft class on board your Fred. Olsen cruise ship, you coulds take the opportunity to develop new creative skills with the help of experts who will guide you step-by-step through the entire process. Many of our guests also enjoy enrichment sessions with various guest speakers, who give fascinating lectures and speeches about topics ranging from Maritime History to Astronomy. Compete with fellow travellers in a game of carpet bowls, or perhaps enjoy a friendly game of table tennis and see how well you do in our mini championships. If you are into playing cards, perhaps take part in a game of bridge. Don't worry if you don't know the rules, we often host groups where experts explain the basics and help develop your skills even further. There's even a chance for your winnings to be added to your account as On Board Spending money, if you are willing to try your luck at bingo.
Evening Entertainment
There are a selection of restaurants and bars for you to experience on board all of the Fred. Olsen ships, but for particularly memorable nights we have speciality dining restaurants, such as The Grill, where you could enjoy a juicy steak and fantastic seafood; or The Poolside, where dishes are inspired by destinations on your cruise itinerary. Our bartenders are skilled and fully equipped to quench your thirst and please your palate with refreshing soft drinks and delicious cocktails. Many of our guests choose to upgrade to the All Inclusive Drinks Upgrade, allowing you to enjoy a couple of extra glasses without having to worry about the bar bill at the end of the night.
Guests can expect some special entertainment at night on board a Fred. Olsen cruise. We're proud to offer live music, cabaret and stand-up comedy shows to liven up your evening. Dance under starry skies to the sound of live music performed by our resident bands, perhaps ending the evening with a walk around the deck. Depending on the length of your cruise, you can expect to experience formal nights where ladies and gentlemen choose to dress in their best attire. However, all Fred. Olsen cruise ships feature a casual dining experience for those guests who do not wish to join the formal evenings, where the dress code for these restaurants is smart casual every evening.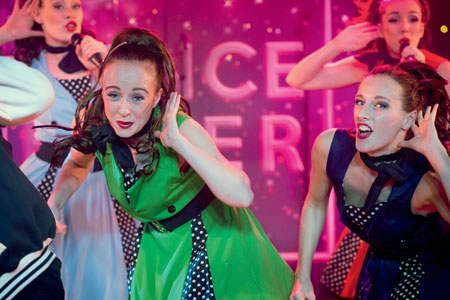 The Fred. Olsen Entertainment Programme is carefully tailored to every cruise and is designed to accomodate many interests, while ensuring all guests have the freedom to pick the activities themselves and create their own unique cruising experience.
Now you're acquainted with the array of activities available on a day-to-day basis, perhaps browse through our extensive range of cruises, for your next exciting getaway.