Iceland is not only unique in its geological splendour of volcanoes, geysers and thermal pools, but is also home to an abundance of wildlife, particularly marine mammals and birds. So last July, as soon as my friend Kathryn and I stepped on board Balmoral at Rosyth, near Edinburgh, and enjoyed the impressive sailaway out on deck as Fred. Olsen's flagship limboed easily under the three famous Forth bridges before heading north towards the edge of the Arctic Circle, we were on high alert for dolphins, whales and soaring seabirds.
Eleven nights Exploring the Natural Wonders of Iceland promised ample opportunity to catch the sight of fins, fur and feathers as we circumnavigated this extraordinary island, dusted by ash-strewn volcanic peaks and snow-capped mountain tops, even in summer.
The Arctic Fox
The Arctic Fox is the only native terrestrial mammal in Iceland and notoriously elusive in the wild, due to its ability to camouflage itself flawlessly with its natural surroundings. Depending on the season, it can change coat colour from blueish-grey like the lava fields during summer to white in winter when the land is covered in ice and snow.
I was pleased therefore that one of Fred. Olsen's shore excursions gives you the chance to meet an ambassador for the breed at the Arctic Fox Centre in pretty Sudavik, sadly hit by an avalanche in 1995 which divided the village into 'old' and 'new' for those that had to rebuild their homes in a safer position.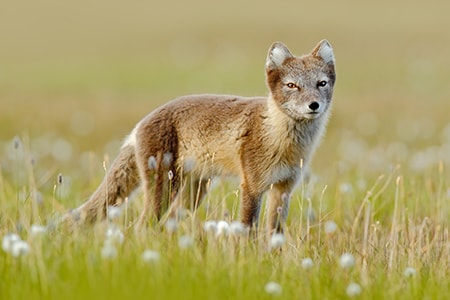 The little fellow we were privileged to meet is the surviving one of a pair of cubs rescued in 2015 after their parents were killed during an Arctic fox hunt, unfortunately (in my opinion) still legal today. Since then they were raised to be human-friendly captive foxes able to ignite an interest in their species to visitors to the non-profit research centre with its informative exhibitions on this hardy mammal that can survive sub-zero temperatures as chilling as -50°C.
We were told that this beautiful blue morph animal with tufty ears and a bushy brush enjoys human company so much that it burrows out of its enclosure on occasion and trots along to the nearby primary school to visit its ardent fan base of local children. Of course, it is soon safely returned!
Horses for courses
Even if the sturdy and shaggy Icelandic horses look as small as ponies – they're not. The islanders take umbrage to anyone miscalling their unique breed of horses anything other than that, particularly as this friendly animal is often treated as part of the family. There is around one horse to every four humans on the island and they are so revered that there is even an Icelandic Horse Day held in their honour on 1st May.
First introduced by the Vikings, for centuries Icelandic horses have lived half wild, large herds roaming 'free' across picturesque pastureland in summertime. But you'll only ever see pure-bred Icelandic horses as all other breeds are banned. In fact, even foreign tack or riding gear is outlawed for fear of infecting the unvaccinated horses, while any animals that leave Iceland for competitions or get sold abroad are never allowed to return.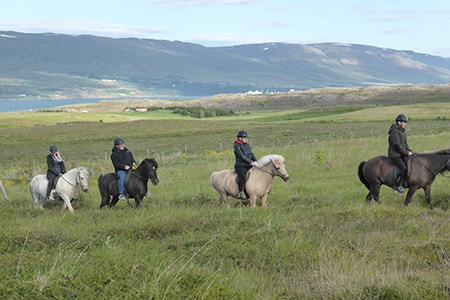 These were some of the curious facts we learned when we joined a Fred. Olsen evening excursion during our overnight stay at Akureyi, trekking along the waterfront just before sunset over wildflower meadows and hilltops, followed by a soak in an outdoor hot-tub to ease saddle-sore muscles and an authentic Icelandic dinner. Even those that had never ridden before found their horses easy-going and biddable, while the coastal scenery was stunning.
I soon discovered it's a unique experience to go riding on an Icelandic horse. The reason is that many of them have extra gaits to the walk, trot, canter and gallop of traditional horses – the tölt (a cross between a trot and canter), which makes them very comfortable to ride, and pace (almost flying with only two hooves on the ground), which I wasn't brave enough to try!
Flying high
The remote Skaleanes Nature Reserve is a model for sustainable tourism and home to an array of flora and fauna, including an incredible 45 different species of birds in summertime. Amongst possible sightings of black-tailed godwit, red-necked phalarope, golden plover, merlin and Europe's largest falcon – the gyrfalcon, it was the tiny but audacious army of Arctic terns that made their presence most felt during our journey through the Tolkein-like scenery of the Troll Peninsula. In breeding season, many young would wander out on the road and have to be shooed safely away from the wheels of our four-wheel-drive bus by our intrepid, kind-hearted guide.
When we arrived at the family farmhouse, the heart of the reserve, we were treated to coffee and Icelandic home-baked goodies as we listened intently to the humorous stories of how the down is lovingly hand collected from the nests of the eider ducks who roost around the pond. The fluffy, soft down is then used to make light and cosy duvets that not only weather Icelandic winters, but often became treasured family heirlooms. As Iceland is the world leader in eiderdown production, the Common Eider is considered by far the most valuable bird in the country, treated with great respect and protected more than any other species.
Let loose to explore and lured by the fact that the best sightings of seabirds were out at the cliff-edge, we fended off repeated attacks from the tenacious, sharp-beaked terns with their shrill shrieks to distract us from their nests to make our way along the shore. We soon discovered the best way to take shelter from the aerial ambushes was to walk beside someone who was taller!
We not only caught sight of seals on the rocks below, but also Harlequin ducks, the unmistakeable and unusual colourings of the male and female sitting side by side.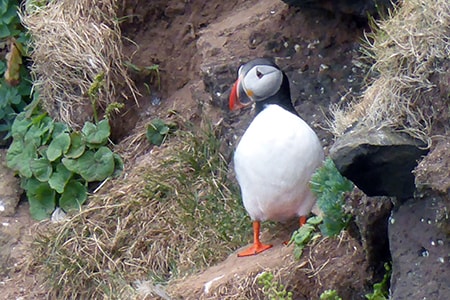 Then, on reaching the cliff face, we were met by a cacophony of screeching seabirds – guillemots, razorbills, kittiwakes, cormorants and fulmars wheeling above us and plunging headfirst into the ocean below before returning to their thousands of nests on the sheer sea stacks.
I strained and scanned the horizon for my favourite little bird that I hadn't yet seen. Then I caught sight of furiously flapping wings, bright orange webbed feet and a rainbow-striped beak. The endearingly clown-like puffin landed on his nest just by the viewing platform and obliviously posed in prime position for some close-up shots from its highly excited and privileged paparazzi.
Whale, I never
We were full of optimism when we joined a whale watching excursion in Akureyri early one morning. After all, the northern part of Iceland is known as the whale watching capital of Northern Europe, where over 20 species including enormous blue (the biggest mammal on earth), fin, humpback, minke and killer whales are all drawn to the bountiful feeding grounds.
The boat with tiered decks was ideal for letting eager passengers have a fair chance of catching sight of what we had all come to see. We enjoyed sitting in the sunshine at the stern, scanning the calm water with binoculars for any sign of movement. The first was a harbour porpoise playfully leaping high out of the mirrored calm all of a sudden to an appreciative audience thrilled by the acrobatics. Then a couple of seals bobbed up to see what the commotion was about.
Finally, about halfway through our four-hour voyage, an excited shout of 'WHALE!' came and – of course – being at the wrong end of the boat, we hurried around to the bow as the vessel cut its engine for optimum viewing. All of us on deck seemed to collectively hold our breath, willing the whale to re-emerge for air and at last, a blow, followed by the unmistakeable grey back of a whale as it surged through the water.
The wildlife expert on board identified it as a fin whale, the second largest species, and gave more details about its size and characteristics just as we were lucky enough to see another come into view.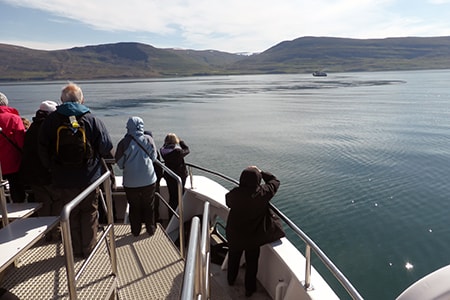 I was glad that the captain didn't harass the whales too much by keeping a safe distance and that there were only a couple of other whale watching boats around, rather than a posse of followers.
Yet, our best sightings of whales came when we were back on board Balmoral. We made the most of the midnight sun in long evenings that barely got dark to watch whales from the deck in the still of night – sometimes as we were cooling down after some energetic dancing! Our very best view was on our last day at sea as we were making our way back to the UK. Enjoying pre-dinner drinks in the Observatory Lounge, a Minke whale suddenly appeared port side and swam right under the ship to starboard!