In June 2019, a conservationist team from ORCA embarked Boudicca for her Icelandic Wonders and Wildlife cruise, to observe whales and dolphins, and to give guests the opportunity to take an active role in marine science and conservation. Some of our guests had the very special experience of seeing their first ever whale, with great views of the flukes rising out of the water.
ORCA partner with the cruising and shipping industry to teach the public about whales and dolphins and inspire them to help protect them. We at Fred. Olsen were incredibly proud to work with ORCA on this cruise, to collect vital scientific date to feed into ORCA's conservation work.
On this particular cruise aboard Boudicca, there were 38 white-beaked dolphins spotted, 58 sightings of long-finned pilot whales and a staggering 132 humpback whales seen and recorded! Along with other dolphin, whale and porpoise sightings, there was a magnificent 444 individual animals, including 14 different species, seen and over 100 hours of deck watching recorded during this voyage.
Anna Bunney and Jenna Silk, the members of the ORCA team who were on board, are incredibly passionate about the work they do. Read on to find out more about this incredible voyage, and for day-by-day reports of the sightings enjoyed on board.
Day One – 19th June 2019: North Sea sailing
The ORCA team were up on deck very early on the first day, hoping for some sightings in the North Sea, and they weren't disappointed as the sea was calm with minimal swell, perfect conditions for spotting cetaceans (whales, dolphins and porpoises). The team were joined by a number of guests wanting to get involved, and soon after a pod of three unidentified dolphins were spotted, close to the ship. Anna and Jenna warned that sometimes they cannot always identify the animal to a species level due to weather conditions, lighting, the length of the encounter, the amount of the animal on show, and their distance from the ship.
"Soon after, a grey seal was spotted resting in the water ahead of the ship. Seals are often found far out to sea – and sometimes can even cross the North Sea! Grey seals are identifiable from their 'dog like' head and face shape, as opposed to the feline face of a harbour/common seal. Within the rest of this deck watch, another small pod of dolphins were spotted, some possible bottlenose dolphins, and our first harbour porpoise of the day".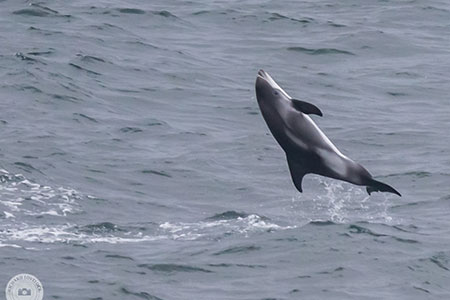 Jenna then met with the team on the Bridge, to establish when Boudicca would be in areas known for their rich supply of cetaceans, and whilst this meeting was taking place a minke whale was spotted on the port side of the ship by guests on deck, fairly close to the ship. For the team, however, the highlight of the day was a "charismatic pod of around four white-beaked dolphins breaching a little way from the starboard side of the ship, launching themselves from the water, creating some dramatic splashes and giving us a flash of their distinctive black and white patterning". In total, 55 animals were sighted in the North Sea on the first day alone, so soon after departing from the UK!
Day Two – 20th June 2019: Cruising by Orkneys, Shetlands & Faroe Islands
Cruising between the Orkney and Shetland Islands, and just 20 minutes into the first deck watch by Anna and Jenna, a pod of three white-beaked dolphins were spotted swimming very close to the bow of the ship. It was a little quiet for a while, but as Boudicca neared the Faroe Islands…" a sperm whale was seen blowing on the horizon to the port side, by two vigilant guests who had joined in our deck watch. One even got a photo of the dorsal fin for the ORCA team to be able to identify the species of the animal - photos can be a superb way to look back at a brief encounter, almost frozen in time for us to gain more information about the animals in this way".
That evening, just before the ORCA team decided to take a break, Anna looked towards Jenna, on the port side, and "behind her saw an enormous whale break the surface within a few hundred metres from the ship and almost burst with excitement as she announced its presence to a somewhat startled Jenna! We quickly pressed the button to record the button to record our position and time on our data logger, and rushed portside to view the whale as it surfaced several times, expelling its huge blow of air. We quickly confirmed the species as a fin whale, the second largest animal on the planet at around 27 metres in length! We rushed down the port side of the ship, pointing out the whale to as many interested guests as possible as we made our way to the guests enjoying their evening at the sheltered stern of the ship. Many of the guests were able to admire the huge whale as we parted ways towards our horizons".
Day Three – 21st June 2019: Cruising Reyðarfjörður:
With a 4.30am wake up call, Jenna was pleased with the calm-looking sea conditions from her window, and was quickly brought to a fuller sense of awake after spotting the defined, angled blow of a whale. While the animal wasn't clearly visible, the blow was spouting at an angle every time – consistent with a sperm whale due to its off-centre blowhole, causing the blow to be angled to the left. Up on deck some 90 minutes later, another angled blow was seen relatively far away, but those with binoculars were able to see the animal blow a number of times before diving, bringing up the fluke of its tail as it descended – a magical moment, and another trademark of the sperm whale.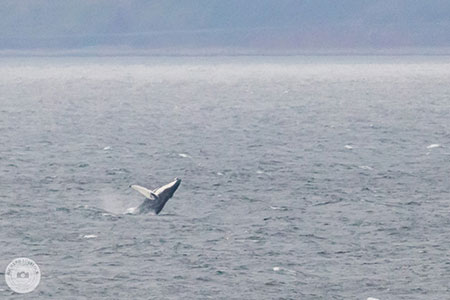 Following this, a pod of approximately six orca/killer whales were spotted by a group of guests, pursuing a minke whale, and a couple of humpback whales were seen too – a fruitful morning's worth of whale-spotting!
Day Four – 22nd June 2019: Cruising Eyjafjörður and Akureyri:
A particularly special day was experienced by the ORCA team, when Boudicca cruised along the north coast of Iceland – known to be one of the region's whale watching hotspots for observing humpback whales. As you might imagine, the atmosphere was tense with anticipation.
Anna and Jenna were right in their expectations…"the sightings began from around 05:20 with the smaller residents of the ocean first – a pod of four white-beaked dolphins swimming a little way out from the portside of the ship, followed within 10 minutes by a lone harbour porpoise close to the ship. Only seconds later another pod of around six white-beaked dolphins were spotted breaching to the port side before swimming closer towards the ship; with just a couple more being seen near to the ship again only 15 minutes later."
After 6am, the excitement levels out on deck rose further, and rightly so… with four individual sightings of magnificent humpback whales spotted blowing, and some fluking (raising their tails out of the water to take a deeper dive) between 06:10 and 06:52 along with one distant unidentified whale. Whilst watching the distant blowing whale, an enormous splash was seen right on the horizon, and as much as we all tried, we could not see the body of the whale as it was so far away, but the enormous splash from its breaches were very visible indeed, a sheer demonstration of size and power. Humpback whales will breach possibly for a number of reasons - for communication, for fun, and to remove itchy barnacles from their skin.
Whilst focusing on the breaching whale in the distance, we all gasped in surprise at the sound of a close whale blow just metres from the starboard side of the bow, a humpback whale that rolled, raising its tail fluke into the air for a dive. Everyone was ecstatic with the close encounter; we became giddy with excitement and began amusing ourselves concocting whale/cetacean related puns… I won't disappoint you by listing them here! We had a handful more of unidentified whales and humpback whales before enjoying a close view of five white-beaked dolphins riding the waves at the bow giving us beautiful views of their prominent colouration.
Before we had even entered Eyjafjörður, we had already hit double figures with humpback whales, and had further sightings of white-beaked dolphins, some riding the bow. Entering Eyjafjörður the deck was bustling with over 100 guests taking in the beautiful scenery and keen to see some whales. After turning into Eyjafjörður, four humpback whales were quickly spotted blowing and fluking ahead of the ship, towards land – our first sign of the abundant humpback sightings to come.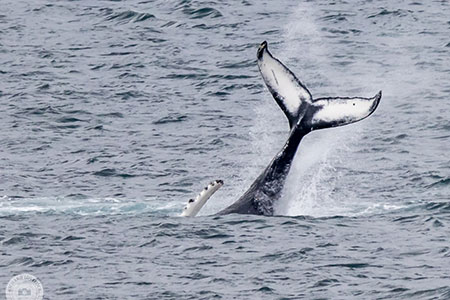 We hinted to the guests to keep an eye on the smaller whale watching boats in the area and to watch the waters around them, and sure enough, the whales were popping up nearby with their tell-tale blows and raising their flukes. We also had a distant sighting of some white-beaked dolphins by one of the whale watching boats, three harbour porpoises, and a possible minke whale. One of the smaller local whale watching RIB boats was surrounded, very closely, by three humpback whales, certainly close enough to smell their blow.
A total of 40 humpback whales were seen that morning! Incredible!"
Day Five - 23rd June 2019: Departing Eyjafjörður and out to sea:
The journey from Akureyri was just as exciting, with nine humpback whales recorded in the first hour of observation, one of which surfaced so close to the ship, it was possible to see its white pectoral fins in the water. The evening suddenly became incredibly exciting with 19 sightings of humpback whales seen blowing, fluking, and even a few of them breaching ahead near to the other two ships ahead of us! As we approached, we got closer views, with some seen feeding below a flock of feeding birds, one humpback whale in particular was throwing the rear two-thirds of its body into a dramatic tail-slap, in an almost rear-breach, not far from port-ahead, an impressive display of power.
Two further large groups of humpbacks were encountered successively after, a group of 12 and a group of nine, with breaches still being seen! The entire evening was filled with humpback whale sightings, all around the ship, it was truly special. Breaching and pectoral fin slapping were being seen frequently.
An incredible 72 humpback whales were seen during this watch, more whales than Anna or Jenna from the ORCA team have ever seen in one sitting in their experiences!
Day Six – 24th June 2019: At sea and Ísafjörður:
As Boudicca departed from Ísafjörður, guests were treated to more humpback whale sightings, some incredibly close to the ship, breaching out of the water. One in particular was showing an impressive and fairly prolonged display of tail-lobbing. Whilst tail-lobbing, the dorsal fin located two thirds of the way back on the animal was also visible, the whale appeared to be hauling the entire rear half of its body out of the water repeatedly. Needless to say, there were many enormous splashes!
In total, 14 humpback whales were seen on this day, one less than the number of species seen by Jenna on her trip around Iceland in 2018, so it was particularly special for both her and Anna, and guests who were out on deck.
Days Seven & Eight – 25th & 26th June 2019: Arriving at and departing Reykjavik:
Despite being out on deck in the very early hours of the morning, the watches were quiet on the arrival into and departure from Reykjavik, with one small pod of white-beaked dolphins and three harbour porpoise spotted.
The following day, Boudicca was at sea, and it seemed to be a quiet watch again, until in the evening when a pod of 17 long-finned pilot whales were spotted ahead of the ship. As Jenna and Anna agreed, "their presence was a marvellous reward for everyone's persistence on deck putting in the hours watching the waves with the ORCA team. Great things come to those who wait!"
Day Nine – 28th June 2019: At sea
There was a great turnout by guests for ORCA's presentation on the devastating effects of plastics in our oceans; but with so many sightings, the team were soon back up on deck, with the regular 'deck watch' guests, some of whom had spotted an animal directly ahead of the ship – it transpired (along with three others) to be a Sowerby's beaked whale – not a species the team expected to see on the cruise, as they're pretty elusive. This was a new species to Jenna and Anna, and a special treat to see.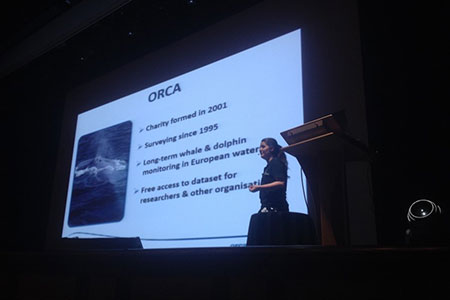 After this excitement, more soon followed, with what seemed to be a spotting of a pod of dolphins. On closer inspection by the team, they discovered they were false killer whales – 25 in total, who were joined by 35 pilot whales! Again, this was a new species for the ORCA team.
Later in the evening, the team were back out on deck, in time to see a large aggregation of very large whales. On approach, Jenna and Anna were able to identify the whales as fin whales from their dorsal fins and surfacing behaviour, not just a few, but 19 identified fin whales! There were also a couple of distant whale blows that the ORCA team were unable to identify. Amongst the fin whale sightings, a minke whale was also spotted fairly close to the ship, and two mysterious sightings of what we can only categorise as 'medium cetaceans'*. Two pods of five, and then two, unidentified dolphins were then spotted. Well worth heading back out on deck for!
Day Ten – 29th June 2019: Kirkwall
Back in UK waters, and travelling through the Orkney Islands, four grey seals were spotted, along with an entertaining pod of common dolphins riding the bow waves of a nearby departing vessel.
The ORCA team use all of the data they collect on the sea and weather conditions, and process it using specialised software, accounting for any likelihood of animals missed by observers.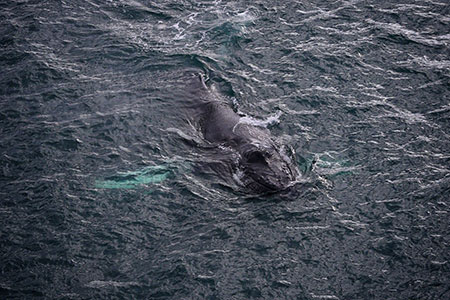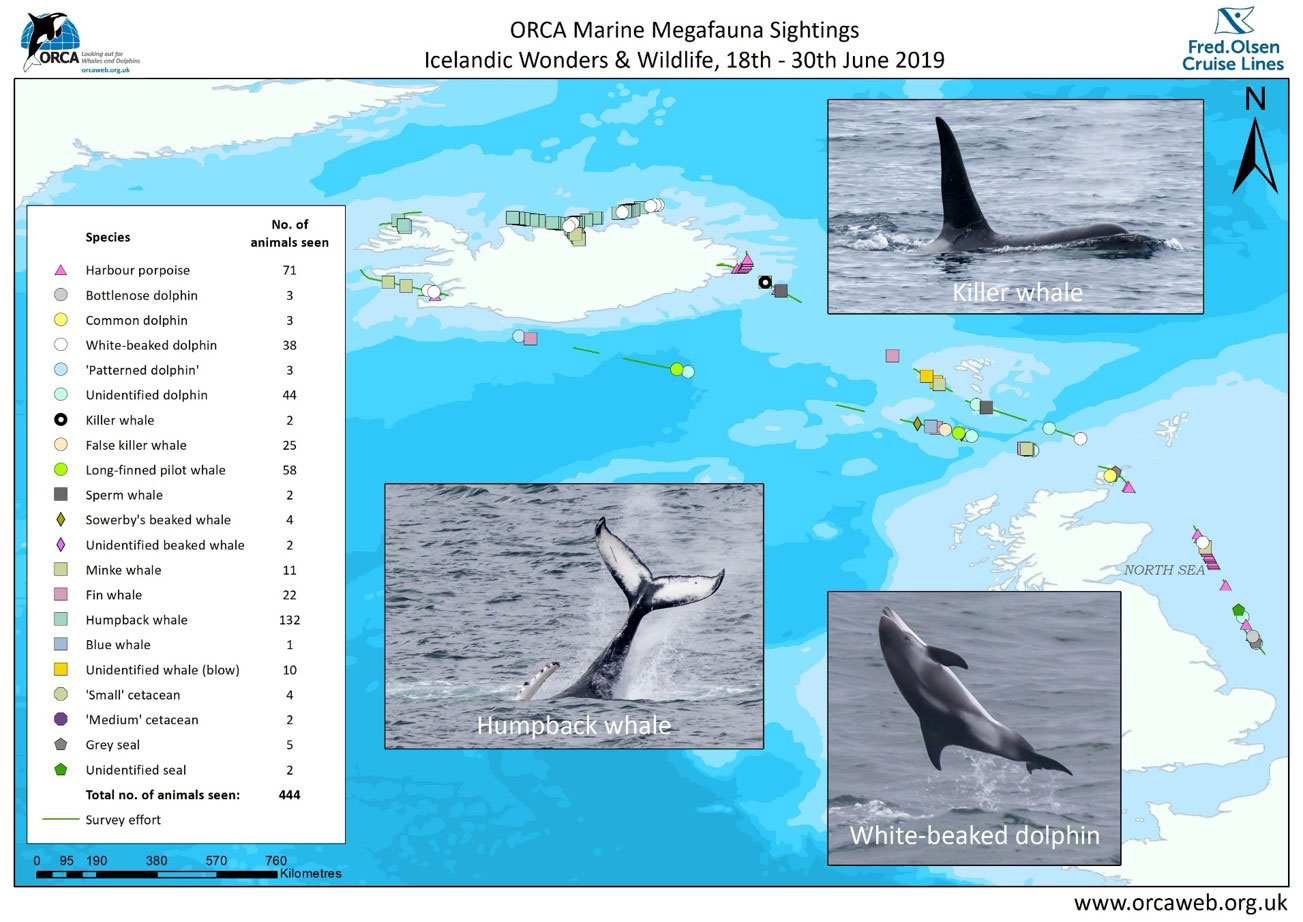 The ORCA team signed off by saying "We had a wonderful time on board, getting to know as many of you as possible, and were very sad to say goodbye (for now) to those who shared the experience with us while unforgettable memories were made. We thank you for your patience, dedication, enthusiasm, photos (Richard!), and good humour, and wish you all well back home, and in your future travels, and we hope we'll meet again on the waves".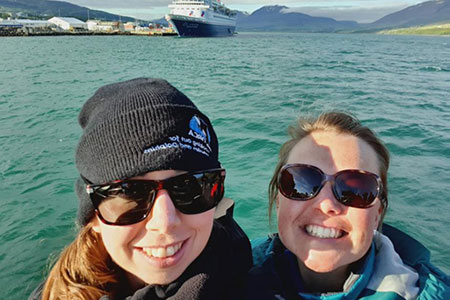 Guests on board thoroughly enjoyed the ORCA team being on board Boudicca – here are a few of the comments we've received:
Mr Holloway –
"What a cruise…there was the added bonus of having the two ladies from Orca on the cruise. This gave an added dimension to the days at sea. They gave great feedback and the report they sent us reinforced the things we learnt".
Mrs Longbottom -
"Lovely islands and destinations. We were also very lucky with the weather. One of the highlights of the trip was seeing dolphins and whales from the ship...having our own whale expert on board was fantastic and she was great. She led guided whale and dolphin watching sessions throughout the week. Fantastic!"
Mrs Crann –
"It was great having the girls from ORCA. We loved their talks and the fact they were out in all weathers. It made the cruise extra special".
Mr Pollard –
"Excellent service and having the girls from ORCA made the trip much more interesting".
ORCA is one of the UK's leading whale and dolphin conservation charities, dedicated to the long-term protection of whales, dolphins and porpoises (*collectively known as cetaceans), and their habitats. For more information, please visit www.orcaweb.org.uk