Exploring Norway's awe-inspiring wonderland of spectacular fjords and unspoilt landscapes with Fred. Olsen – whether it's for the first time or the twenty first – is always a unique, rewarding and memorable experience.
As we're a proudly Norwegian company, still owned and run by the Olsen family, whose roots are embedded in the beautiful Oslofjord village of Hvitsten, we benefit from generations of rich heritage and knowledge of Norway. This, combined with the ability of our smaller ships to navigate size-restricted waterways and get closer to inspirational wonders and enchanting destinations in the heart of the magical fjordland, we can show you this remarkable country like no one else.
All Fred. Olsen Norwegian Fjord cruises are expertly crafted to make the most of our experience and our size-advantage, so you'll find that every itinerary is packed with highlights – such as peaceful scenic cruising by mighty mountains, towering cliffs and cascading waterfalls – to showcase just how special our homeland is. A foray into the fjords on board one of our smaller, friendlier ships is your opportunity to create memories that will last a lifetime.
You don't just visit the fjords with Fred. Olsen, you experience them…
On a Fred. Olsen fjord cruise you don't simply visit this incredible part of the world and appreciate its splendour from afar. We offer carefully selected Shore Tours, ample time for independent exploration, and even exhilarating RIB adventures, to ensure you experience each region, waterway and destination on your itinerary to the full, no matter which sailing you choose.
With this in mind, we have handpicked a selection of some of the most exciting, memorable and unmissable attractions and adventures – all in or within reach of our most popular fjordland destinations – to provide a taste of the experiences you could enjoy when you explore the Norwegian Fjords on our smaller, friendlier ships…
Immerse yourself in the captivating beauty, uncanny peace and soothing tranquillity of the fjordland – all from the comfort and ample space of your home-from-home at sea. Unlike some larger vessels, Fred. Olsen ships benefit from the ability to divert into narrow, shallow and size-restricted fjords – as well as the wider, seemingly endless waterways – to show you to diversity of the region's mesmerising splendour.
A host of iconic fjords awaiting your exploration with Fred. Olsen includes the UNESCO-listed Geirangerfjord and Nærøyfjord, rated the joint number one Natural World Heritage Sites by National Geographic. Along Nærøyfjord, which pinches to just 500 metres wide at its narrowest point, you'll feel close enough to almost touch the flanking snow-capped mountains and imposing cliffs, while a navigation of the canyon-like, 'S' shaped Geirangerfjord takes in some of Norway's most famous waterfalls – including the Seven Sisters and Bridal Veil – for unrivalled photo opportunities.

An engineering marvel built between 1920 and 1940, and regarded as one of the world's greatest and most scenic train routes, the Flåmsbana Railway is a fjordland icon and a 'must-do' experience during a visit to the charming Aurlandsfjord-side village of Flåm.
While only nine miles long, the railway ascends to 867 metres up a magnificent mountain range, climbing at a steep gradient of 1 in 8. Along its twisting route are a number of impressive bridges, tunnels and vantage points presenting breathtaking mountain vistas, as well as incredible sights such as the striking Kjosfossen Waterfall. Often the trains will stop at Kjosfossen, so that passengers can enjoy a close-up view, feel the spray from its cascading white waters, and look out for a mysterious local legend who, according to folklore, appears only to lure passing male visitors into the woods!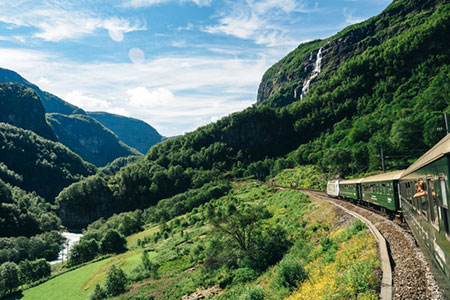 Situated at the southernmost arm of the stunning Nordfjord, picturesque Olden is a gateway to a collection of sparkling glaciers and glassy glacial lakes.
On a tour you can witness the famous Jostedal Glacier and one of its most famous 'arms', the Briksdal Glacier. The excursion takes you through a beautiful valley, passing by numerous waterfalls descending from glacier ice, before you get to experience a panoramic view of Briksdal from across a tranquil lake.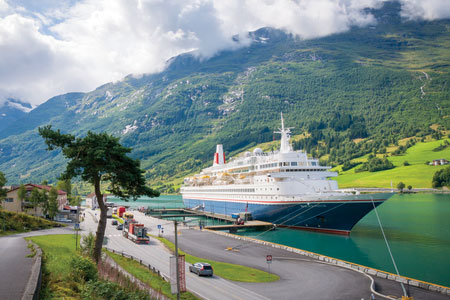 Elsewhere, a journey from Olden through the winding roads of the Kjenndalen Valley takes in the mighty Kjenndalen Glacier and postcard-perfect Lovatnet Lake.
Olden is also the perfect port for Fred. Olsen's RIB adventures. In operation on all four ships in our ocean-going fleet, our RIB crafts can take guests even closer to the wonders of spectacular regions and destinations on earth, and in Olden you can join a tour to immerse yourself in the beauty of the surrounding fjordland in a way few others get to enjoy.
Fjord Kayaking (Eidfjord)
Sheltered by towering mountains, Eidfjord – a branch of the magnificent Hardangerfjord – is the perfect place to experience fjord kayaking and marvel at sublime fjordland scenery from a uniquely immersive, very special perspective.
During a visit to the pretty fjord village of Eidfjord, you can take just a short walk from the ship and set out onto the fjord's cool, still waters aboard your own kayak. An expert guide will lead you, accompanied by a convoy of kayaks, along the fjord and show you some of the most spectacular sights in the region, while providing insightful commentary explaining the creation of the landscapes around you.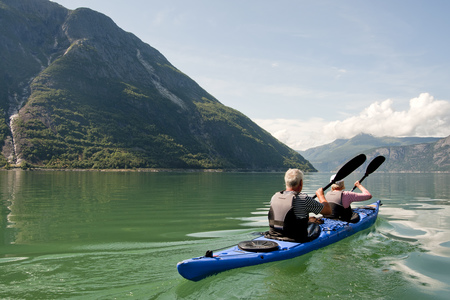 A new attraction that has quickly become one of the highest rated experiences enjoyed anywhere in the fjordland, the Loen Skylift offers a breathtaking and unforgettable view of Nordfjord's dramatic landscape.
Considered to be amongst the world's steepest cable car rides, the Loen Skylift takes you up Mount Hoven to a height of over 1,000 metres above sea level, and presents an unspoilt panorama that captures the Nordfjord, its imposing mountains and the glaciers of Jostedalbreen National Park. Atop Mount Hoven you'll find a restaurant and a bar too, for food and drinks with an unrivalled view.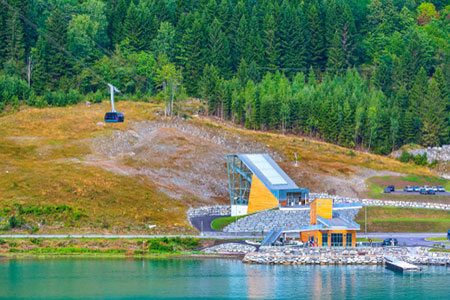 Known affectionately as the 'City of Seven Mountains' and the 'Gateway to the Fjords', beautiful Bergen is – as its nicknames suggest – renowned for its mountains, fjord-like landscapes and picturesque surroundings.
Mount Fløyen, overlooking Bergen and rising high to approximately 400 metres above sea level, offers wonderful views of the city and rugged islands and islets on the horizon from its summit, which is reached easily via the impressive Fløibanen Funicular Railway – just a 20-minute walk from the city's port.
At ground level there are plenty of highlights to uncover and explore in Bergen too, including the charmingly traditional fish market, many interesting museums, galleries and exhibits, and the iconic, UNESCO-listed Bryggen Wharf.