We caught up with Lee Mudkins, our Cruise Services Manager on board our river boat, to ask him a few questions about life on board Brabant.
Read on to hear what he had to say...
What's an average day like on board Brabant?
Here on Brabant, we have a rather varied itinerary and this means no two days are the same. Usually, I will be up around 7 am, checking the breakfast service, followed by dispatching a morning excursion which has been carefully selected by our team of Destination Experience Executives.
After this, I sit with the Cruise Director and produce the full Daily Times ready for print in the evening. We may have additional tours to despatch, or may even host parties and games on deck alongside our guests. All in all, it is great fun and a varied role.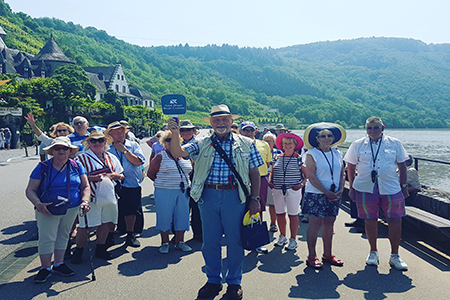 What's your favourite thing about working on board Brabant?
I love the destinations we visit, there are so many unique ports that only Brabant can get into, and we really do have the best docking locations. The scenic cruising we offer is spectacular especially along the Middle Rhine Valley, and we really do make the most of the destinations in our itineraries.
What are your key responsibilities on board?
I have to maintain the whole Fred. Olsen Cruise Lines brand standards and ensure we are following correct company guidelines.
I also have to make all tour reservations, future cruise bookings, produce The Daily Times, host games and quizzes, enjoy meals with our guests, compile cruise reports, liaise with our tour providers for excursions, organise shuttle buses where required, organise local entertainment acts to come aboard; and make sure all embarkation and disembarkation runs smoothly, including organising all the transport and assistance required - even as far as printing off guests return tickets home.
The responsibilities are huge, but I also get great rewards seeing the happy faces on our guests and reading the amazing comments they leave.
What makes your job exciting?
The unknown…. You wake up and each day is different, different places and scenery and the opportunity to make guests dreams into reality.
What job did you do before joining Brabant?
Before joining Brabant I was a Guest Relations Manager on Boudicca and then Balmoral.
Prior to this, for a number of years, I worked on board P&O Cruises ships as a Loyalty & Sales Manager. I have spent most of my working life involved in the cruise industry, and have really enjoyed the opportunity given here on Brabant, and hope for many successful seasons.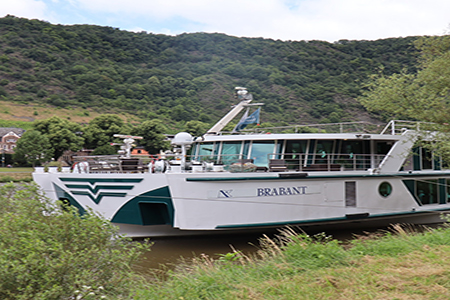 What's your favourite river cruise destination?
Without a doubt, I love the city of Budapest, what a highlight to any cruise!
With so much to see and do at every corner, it really is an interesting destination. I can usually be found in the Gellert Baths on a hot afternoon (when I have done all my work!) and we often do evening sailings around the Danube to witness Budapest at night, which is truly amazing.
What makes a Fred. Olsen river cruise different?
We have the traditional Fred. Olsen cruise experience - all of our guests and crew feel like they are at home. We charge all accounts in Sterling, and everything is themed with the Fred. Olsen Cruise Lines brand in mind.
Being a smaller ship we really can get to the best destinations and often secure the best berths at those too, which really enhances our guest experiences.
What top tip would you give to a guest who has never experienced a riverboat before?
Come with open eyes, and most of all relax! You're on holiday!
Let us take care of your wants and needs and try and get involved with all the activities we have on offer. Immerse yourself in the destinations and never be shy to ask us for anything you need, the crew on board are super friendly and will always help and assist you.
What should guests who usually cruise on our ocean ships expect from a river cruise on Brabant?
It must be noted that our Brabant river boat is not going to provide the facilities that you may find on our Ocean ships; however, it's not every day you wake up in such interesting ports of call - literally on your doorstep.
You can be opening your curtains to an amazing Cathedral or Museum right outside.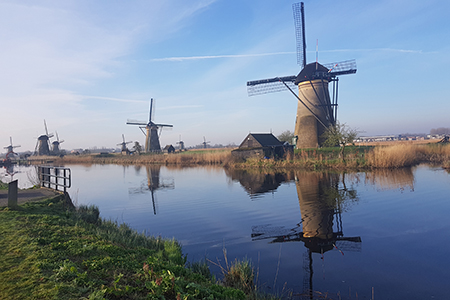 You should expect to be pampered and have a great level of service from our crew on board, and be safe in the knowledge that your every need will be catered for. We provide complimentary Rituals bathing products, and daily complimentary water for you use, as well as free Wi-Fi on board. I promise no guest will go disappointed and would love to see each and every one again on a future Brabant cruise!
Take in some of the most beautiful rivers and waterways in Europe, sail the stunning Danube, meander through the Moselle and Rhine valley, and admire picturesque towns and villages, all from the comfort of Brabant; offering the Fred. Olsen home-from-home cruising experience.