Braemar, one of Fred. Olsen's fleet of smaller, friendly cruise ships, is dedicated to taking you closer to exceptional experiences in some of the world's greatest destinations as part of our extensive programme of expertly-crafted cruise holidays.
Visiting stunning Seville is one of many unforgettable experiences within Braemar's cruise programme. Here are several reasons why you should take the opportunity to discover this historical, picturesque Spanish city with Fred. Olsen…
Sailing into the heart of Seville
Braemar can sail 49 nautical miles along the low-lying, gorgeous Guadalquivir River, which will be your scenic route to Seville, passing by Donana National Park – a feat only smaller ships can achieve. Upon arrival in Seville, your smaller ship will dock in the heart of the city and close to the action, so a wealth of sights, highlights and attractions will be within easy reach from the moment you step ashore.
Seville is home to an impressive collection of beautiful, must-visit World Heritage Sites, such as the enchanting Parque de Maria Luisa, iconic Plaza de España and the Real Alcázar de Sevilla – three sites deemed protected treasures by UNESCO, as they 'perfectly epitomise the Spanish 'Golden Age' and centuries of ecclesiastical power'.
Seville Cathedral, the Alcazar and General Archive of the Indies together form a remarkable monumental complex right in the heart of Seville, with each building clearly reflecting their architectural histories and acting as an exceptional testimony to previous civilizations.
Dominating the centre of the city is the towering Gothic Cathedral of Saint Mary the See. A five-nave cathedral, this protected building is a magnificent tribute to the Seville's Catholic influence and times of Islamic rule here, with its iconic bell tower, which was previously a minaret.
The Alcazar, also known as Seville's Royal Palace, is a beautiful example of architectural syncretism found just a short walk from the Seville Cathedral. It is revered as the finest example of the Islamic, Gothic, Renaissance and Baroque elements brought together in one place.
Tapas Restaurants
Tapas provides the quintessential taste of Spain and the cobbled streets of Seville are peppered with a plethora of traditional restaurants to indulge in the local cuisine. One of the highlights is La Fresquita, which can be found a stone's throw away from the Santa Cruz church, where you can sample delicious flavours and a friendly, welcoming atmosphere.
Santa Cruz Quarter
Full of picturesque narrow streets, bold architecture and a rich, compacted history that explores an incredible blend of civilisations through time, the Santa Cruz Quarter boasts an allure that is hard to match. Home to three of UNESCO's World Heritage sites and to plenty of Seville's oldest churches, the Santa Cruz Quarter provides an interesting insight into religion, life and culture.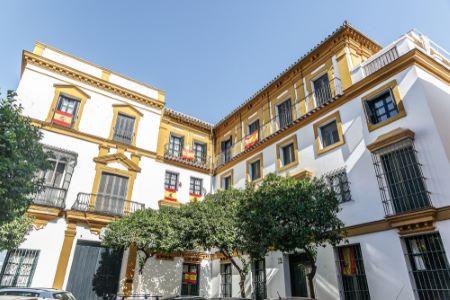 Flamenco is a part of Seville's cultural DNA, and the Santa Cruz District provides the perfect setting in which to enjoy traditional performances in the bars and theatres. Some of the best performances are seen at the Museum of Flamenco Dance, which can be found whilst strolling through Santa Cruz's small winding roads.
The Fred. Olsen Experience
One reason why so many people choose to cruise with Fred. Olsen is that we include so much in the cruise price, giving real peace of mind. With comfortable rooms, irresistible choice of cuisine, a wide variety of engaging on board activities, a full programme of evening entertainment and our friendly staff always at hand, you are sure to experience traditional British cruising at its best in a welcoming, home-from-home atmosphere. What's more, you'll be cruising with a smaller number of like-minded fellow guests to get a closer, more intimate experience on board and ashore.