My name is Victoria and I have worked for Fred. Olsen Cruise Lines for almost 15 years at the time of writing, I have been fortunate enough to have enjoyed many an ocean cruise, so when the opportunity arose to take an educational trip on board our dedicated river cruising ship Brabant, I jumped at the chance to experience something new!
After what felt like a million 'WhatsApp' messages to my colleague, discussing what to pack, where we were going and of course the weather, I was ready to go and really looking forward to my first river cruise experience.
The first point to note when preparing for my river cruise holiday was, unlike when packing for an ocean cruise when I live by my motto of 'if in doubt, let's take it!', that I did have to consider the weight of my suitcase for our flight from Heathrow to Zurich to meet Brabant. While air travel is a little more involved than simply arriving at your cruise departure port and happily waving goodbye to your luggage until arriving in your cabin, as guests do on our ocean cruises, it does allow you to reach your region of discovery sooner! This is perfect if you wish to skip sea days and get 'straight into it', making the most of your time away.
Gladys, our friendly representative, greeted us on arrival at Zurich Airport before we set off on a relaxing transfer to meet Brabant and embark the ship. The first thing I noticed was how easy it was to board, if you've been on our ocean ships, Brabant is much smaller. Once you step on board though you immediately feel that familiar Fred. Olsen welcome and country house hotel style, and are greeted with a welcoming smile.
I was shown to my room by a member of the Brabant team, which – although the ship is small – saved me the time and effort of trying to find the room myself, and provided another lovely personal touch to my welcome on board. The room itself was spacious, had two single beds, and a Juliet balcony dominated the room – perfect for viewing all the stunning scenery yet to come. Similar to the accommodation on Fred. Olsen's ocean ships, it was also well equipped with tea and coffee making facilities, a safe, ample storage and a good size bathroom.
There is water in the room, replenished free of charge every day and in the bathroom, soap, shower, gel, shampoo and a small sewing kit for any impromptu repairs are provided.
Before the ship's departure a safety drill takes place, so we all gathered in the Panorama Bar (there's no need for separate stations on board Brabant due to her cosy size) and our fabulous Cruise Director started the drill. During this time she also took the time to explain how life on board Brabant works and briefly gave an overview of The Daily Times, how to book tours and dining times. Very handy for everyone on board, but in particular guests whom are first time cruisers!

Keeping in touch with loved ones at home is easy on board Brabant, as the ship offers guests free Wi-Fi. Connection does time out if not using your device, so you need to remember to keep logging back in, but it enabled me to send pictures of all the culinary delights and scenic sights I enjoyed on board to my rather envious family! The Wi-Fi code is available from Reception at any time.

When it comes to dining, things are a little different on board Brabant. Unlike on our ocean ships, where there are two evening dining times, set tables and a choice of dining venues, our river ship has just one relaxed, comfortable venue where dinner is enjoyed at 7pm. Tables are not set either and you choose where to sit when you arrive, so we decided to tuck ourselves in the corner and check out the eagerly anticipated menu.

In keeping with the ship's less formal approach to dining, Brabant's menus are smaller than those on offer on our ocean ships, but there are still plenty of tempting dishes to choose from. Two starters; two soups; three main courses, including a vegetarian option; and then one dessert or cheese and biscuits, though your waiter will bring you both if you ask nicely! Everything I had during my stay on board was excellent, delicious and beautifully presented. Service was exceptional too, all of our waiters greeted us with a smile, and dinner always enjoyed at a comfortable, leisurely pace.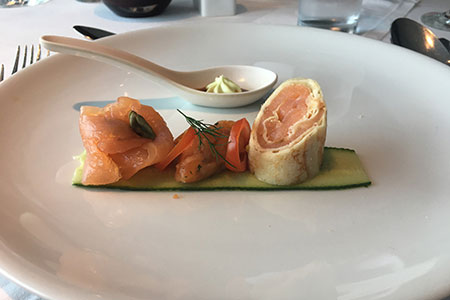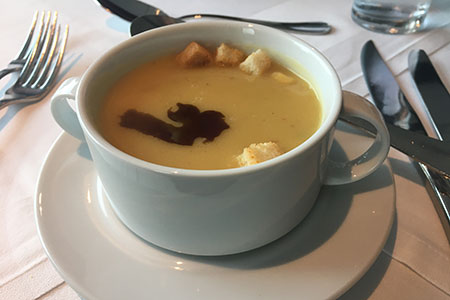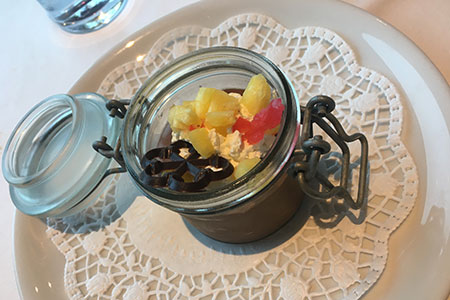 In general, evenings on board tend to be quiet, laid back affairs, similar to the experience enjoyed on our ocean ships, which allows you to take things a little slower and make the most of the opportunity to unwind. On warm summer evenings, the upper deck provides a pleasant spot to relax and unwind with a good book, take in views of stunning countryside scenes or charming cities, villages and towns, or perhaps enjoy a game of giant chess or shuffle board.
On some evenings local acts also come on board to entertain guests, and I was lucky enough to enjoy a local violinist's rendition of The Pirates of the Caribbean opening music that left the audience in awe! These acts tend to perform shortly after dinner and I noted The Panorama Bar tended to become quieter around 10pm. This wasn't a problem for us though; we simply stayed up later and took advantage of the chance to sample the bar menu – a tough job, but someone has to do it! After enjoying a few of the drinks on offer, I decided that my favourite tipple is now a 'Hugo'!
Another thing to note about evenings on board is that you can leave your formal wear at home. The dress code is smart casual, which is perfect for those who are not so keen on wearing a suit or don't want to dress up for dinner on their holiday.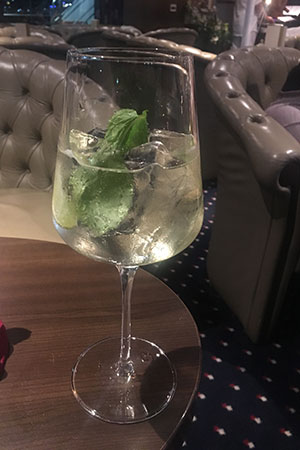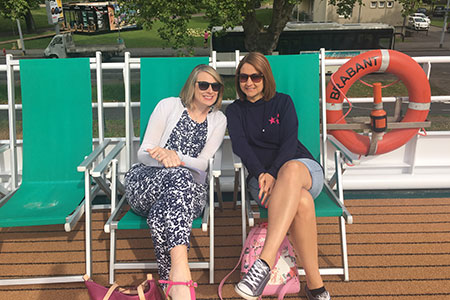 Our first port of call was Strasbourg and after enjoying the best pancakes I've ever had, topped with maple syrup and blueberry compote, and accompanied by fresh fruit from the buffet, I was ready for the day. This particular port of call did require a short transfer to the centre of Strasbourg, but it's free and easy to join and all departure times were listed in The Daily Times. Time ashore there allowed us to explore Strasbourg on our own before making our way back for lunch.
It's important to note that getting on and off Brabant is so easy. You simply swap your room key for a boarding pass and step off the ship – completely hassle free, just like walking out of your own front door! No transfer was required in many of the other destinations visited, and of the majority of time the ship docked closer to the heart of the destination, with tempting coffee shops, bars and shops – plus many other attractions – just a short walk away.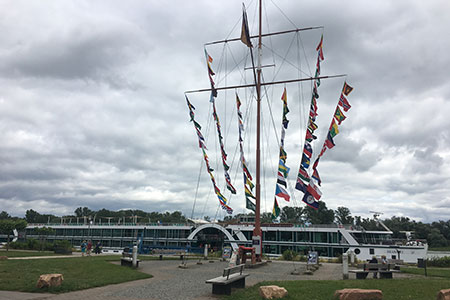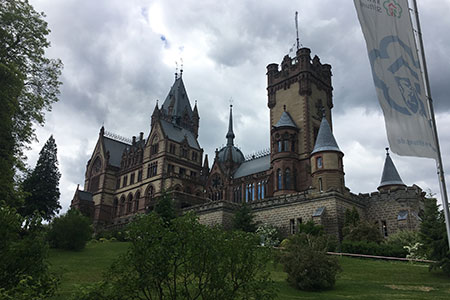 On my river cruise, I had the opportunity to enjoy two shore tours – a sightseeing tour taking in the 'Cobbles and Clocks' of Strasbourg, and 'Drachenberg Castle'. The tour guides on both these excursions were very informative and entertaining and I would really recommended our shore tours, as they really do allow you to uncover the best of your destinations and make the most of time spent ashore.
To ensure no guest misses any vital part of their tour, two audio guides called QuietVox's are found in each room. These audio devices are simple to use – all you need to do is tune into the correct channel, as advised by your tour guide, pop the ear peace in and listen. Just remember to put them back on charge ready for your next tour!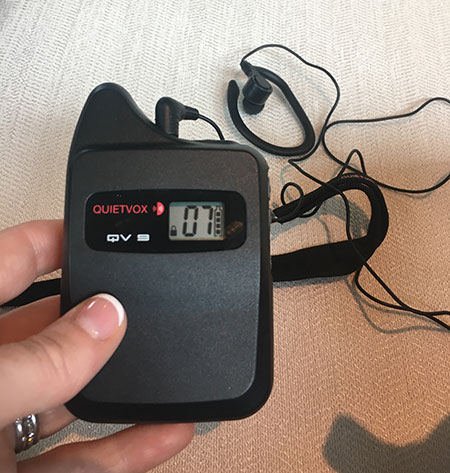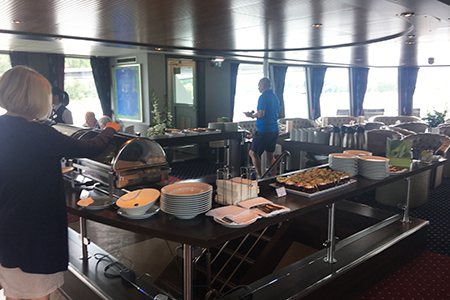 Back on board, lunch was served in the restaurant at 12pm each day with a menu designed to cater for all tastes, all be it slightly scaled down from our ocean ships. For those guests used to our ocean ships, there is also a slightly smaller separate buffet station serving soup and salads, but it feels like there is still plenty to choose from, and by not having too much choice it did mean I didn't keep going back for more and filling my plate again!
For those guests returning to the ship after a morning ashore, or need to eat before their afternoon tour, the same menu is offered in The Panorama Bar, where you help yourself instead of waiting for table service.
For guests who consider destination discovery the most important factor when booking a cruise holiday, I can't recommend Brabant river cruising enough – especially as you often visit two ports in one day! Docking close to the centre really maximises the time available to explore and immerse in the culture. And for those who like to take life at a more relaxed pace and unwind, this is also the perfect opportunity to really kick back and enjoy a calmer way of spending time away.

I loved my time on board Brabant. It was different to an ocean cruise, but I found the way of life very calm and relaxing. The pace is leisurely, but the journey enabled me to feel as if I was seeing the world differently and really left me wanting to experience more time on Europe's beautiful rivers.