How many times have you celebrated Christmas and New Year in the same way, in the same place? Like so many people, you may have struggled to come up with new ideas that could surprise your family and help get them into the festive spirit.
If so, perhaps it's time to try something new? A festive cruise holiday could be the perfect change of pace, offering you the chance to celebrate Christmas and the New Year in style on a journey to some of the world's most inspirational destinations.
Whether you want to get away from hectic life at home, or just relax and enjoy the festivities without all usual holiday fuss, Fred. Olsen can oblige by taking you on a long ocean voyage or a shorter cruise to culture-rich European cities. Here are our top five reasons to celebrate the festive season with Fred. Olsen.
1. Make unforgettable memories
Fred. Olsen's festive sailings are packed with memorable experiences. You could revel in the magic of some of Europe's biggest and best Christmas markets, and the local cultures of captivating cities. Our Christmas Markets of Germany & Denmark cruises affords time to explore the charming cities of Copenhagen, Bremen and Hamburg as they come to life at the 'most wonderful time of the year', while across the channel, you can cruise into the heart of Amsterdam and Antwerp, for legendary museums, chocolates and diamonds. It goes without saying, that on both itineraries you will have the opportunity to visit world-famous landmarks, museums and city canals as well as twinkling old town squares with the most magnificent Christmas decorations.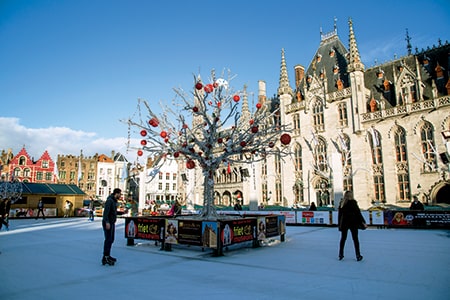 2. Relax and watch the magic happen
You can count on our friendly, attentive staff to take care of everything so you can sit back, relax and revel in the festivities of the holiday season. Many of Fred. Olsen's Christmas cruises include an unforgettable Christmas Day at sea, offering guests the chance to celebrate with all the 'trimmings', including traditional Christmas food and thrilling on board entertainment.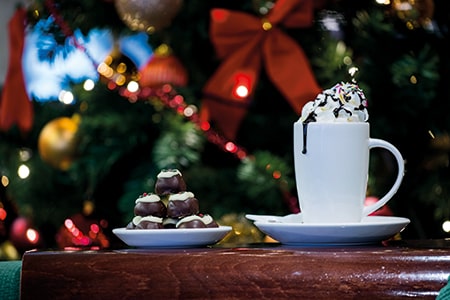 3. Reconnect with your loved ones
You may choose to use your time at sea to reconnect with your life partner or family. Aboard or ashore you'll find plenty of ways to spend quality and fun time with your loved ones. You can pamper yourselves at the Atlantis Spa, join dance classes, immerse yourselves in the destinations on your itinerary aboard our all-new RIBs, and much more.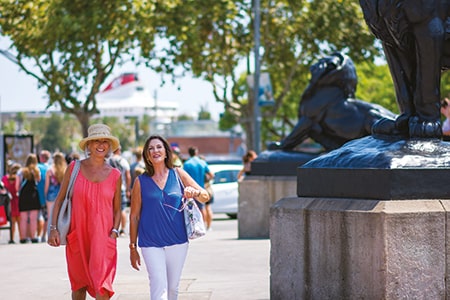 You're sure to be enchanted by the blend of sun, sea, sand and authentic experiences if you choose to spend Christmas on one of our exotic sailings. You can choose between the Caribbean, Canary Islands, Indian Ocean or the South Pacific Islands.
Take a different approach to winter holidays and make them simply unforgettable by visiting sun-kissed destinations with beautiful beaches, clear blue waters, exotic wildlife and laid-back culture.
You could join us for a special Transatlantic & Caribbean Christmas sailing and let Braemar whisk you away from the UK's wet winter weather to the sun-kissed Caribbean, where you will get to hop from one island to the other in the comfort of your smaller-sized ship.
Trade in your winter jacket for swimwear, sit back and welcome the New Year while watching the sun rise over the coast. Apart from the beach, you can go hiking in tropical forests where fabulous fauna and flora are waiting to be discovered. Adventures like kayaking in the bay, snorkelling in the reefs and exploring caves are more fun when shared with loved ones.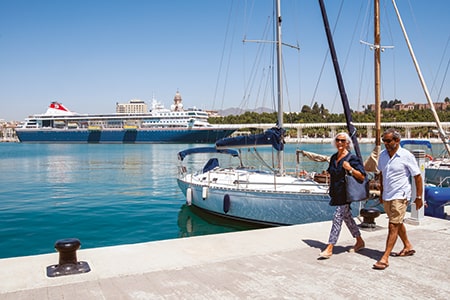 We know that seeing the world with new-found friends and like-minded travellers is a truly memorable and enjoyable experience. On board you'll enjoy a warm, sociable atmosphere as you cruise to dream destinations in pure comfort and classic style, meeting people and creating friendships that will last a lifetime along the way. And if you're travelling solo, you'll never feel alone on board a Fred. Olsen ship, the fleet has a reputation of being one of the friendliest afloat, and cruising is so much more enjoyable when you travel with new-found friends.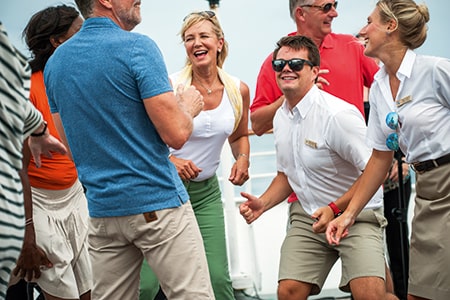 So, if you're ready for an unforgettable holiday season, explore our fantastic range of festive and Christmas sailings packed with beautiful destinations.