If you're planning a trip to Norway, visiting the fjords should be top of your list. Norway has 29,000km of coastline when you include its fjords (it's estimated that there are anything between 1,200 to 1,700 fjords dotted along Norway's coast) - but if you don't include the fjords, there's only around 2,500km of coastline.
In fact, if you're looking for the perfect late spring break, cruise with Fred. Olsen to the Norwegian Fjords in 2022 - on board Borealis for a wonderful nine night sailing from Liverpool on 25th May, visiting an abundance of beautiful fjords and mountains.
Click on the button below to discover more.
What better way to explore them than on a Norwegian fjords cruise specifically designed to help you experience the spectacular scenery of this other-worldly setting? Here's everything you need to know about Norway's awe-inspiring fjords.
What are fjords?

A fjord is a long, narrow body of water, usually found with steep cliffs on both sides of the water. They're created over thousands of years through a process called glaciation, which is when glaciers carve out U-shaped valleys and sea water fills the space created in the valley floor.
There are fjords all over the world, including in Chile, New Zealand, Canada, Alaska and Greenland, but the most beautiful can be found in Norway. The word "fjord" even has Norwegian roots, stemming from a Viking term with two meanings "where you travel across" and "ferry".
How deep are Norwegian fjords?

The fjords are incredibly deep, and can reach extreme depths just a few metres from the shoreline. The deepest fjords are up to 6,300 feet (2,000m) deep, with the deepest fjord being Sognefjord, which reaches an incredible 4,291 feet below sea level.
Discover Norway's picture-perfect fjords

It can be hard to decide where to visit among Norway's fjords. Many are intertwined and you can sail on a cruise ship from one to another, which means you can cover plenty of must-see fjords in one trip. Let's have a look at some of the best fjord regions in the country and the varied ways you can explore them.
Sognefjord by boat or train
Sognefjord is the longest and deepest fjord in Norway. It stretches inland from the coast just north of Bergen for 204km, and you can discover the epic scenery of Norway's coastline from our Fred. Olsen cruise ships - or hop on one of our RIB boats to get even closer to the scenery. You can even explore from dry land on the Flåm Railway. Described as one of the best railway journeys in the world, this incredibly scenic train ride takes you from the Aurlandsfjord, at the end of the Sognefjord, all the way to the Myrdal mountain station, located 867 metres above sea level. Over the course of an hour-long journey, on the Flåm railway you'll enjoy the fjords from a different perspective, with a stop at the Kjosfossen waterfall. This incredible waterfall has a total height of 93 metres, and is only accessible by train.
Nærøyfjord by kayak
A branch of the Sognefjord, Nærøyfjord is so beautiful that it's a UNESCO World Heritage Site. This fjord is 17km long, but only 250m wide in places, making it one of the most dramatic fjord cruises in the country. It's a fantastic place to explore on a guided kayak tour, where you'll enjoy getting away from it all and immersing yourself in this beautiful fjord.
Hardangerfjord on a hike
The fifth-longest fjord in Norway, Hardangerfjord is 179km long. It starts 80km south of Bergen, making the city the perfect base from which to start your exploration of the Hardangerfjord - and there's plenty to explore, including the Sørfjorden, a 38km-long branch of the Hardangerfjord. As well as experiencing the fjord from the water, there's lots to see and do around the fjord as well, including the Folgefonna glacier and the Folgefonna National Park, located to the west of the fjord.
It's also home to the Hardangervidda, a must-visit for keen hikers. This incredible mountain plateau includes the Trolltunga, a world-famous destination for mountaineers that towers 1,100 metres above sea level. A hike up the Trolltunga is a must-do for any visitor to the fjords - with a cliff jutting out horizontally over the lake below, it's a photo opportunity you can't miss out on!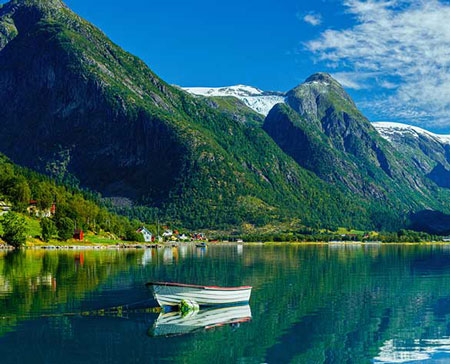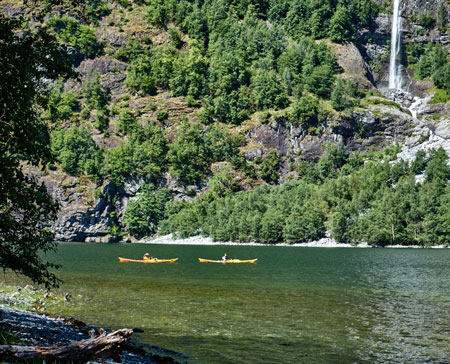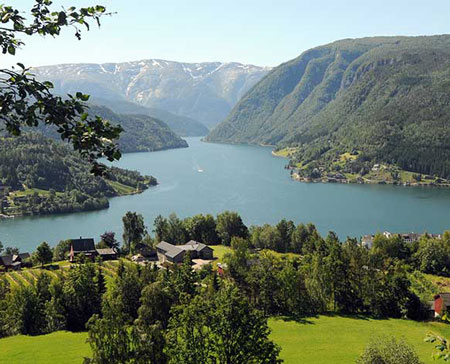 Lysefjord step-by-step
Just 25km east of the city of Stavanger in southern Norway, the Lysefjorden is 42km long. As well as exploring the Lysefjord itself, make sure to get up high for incredible scenic views over the water. The Preikestolen - or Pulpit Rock in English - is one of Norway's most famous mountain hikes at 604m high, offering breath-taking views down to the fjord and to the snow-capped mountains beyond.
If you're keen to explore even further on your cruise of the Lysefjorden, don't miss the Flørli which, with 4,444 steps, is one of the longest wooden stairways in the world.
Trollfjord by sea
The Trollfjord can be found on the Lofoten Islands, in northern Norway's Arctic Circle. It's just 2km long, and the mouth of the fjord is just 10m wide, making for a jaw-dropping boat trip as you gaze up at the steep mountains and look out for eagles swooping overhead. This fjord can only be reached via the water (or a gruelling hike), so sit back, relax and enjoy the trip when you visit Arctic Norway.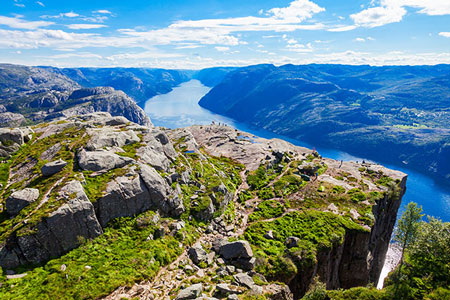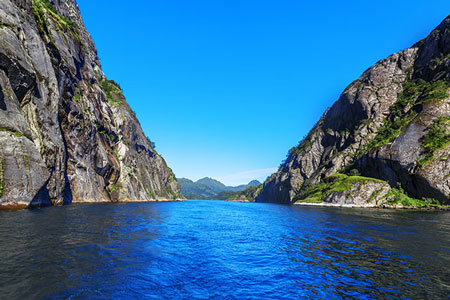 When is the best time to visit the Norwegian fjords?

The fjords are fantastic at any time of year. Norway is spectacular in the winter, especially if you travel up to the Arctic Circle where you might get a glimpse of the Northern Lights.
However, the fjords are also incredible during the summer months, when you can make the most of not only enjoying them on a cruise ship, but also by kayak or on two feet as you take on some of the country's best hikes.
What to wear on a Norwegian fjord cruise

Layering is a good idea for your Norwegian fjord cruise. Whether you're visiting to chase the Northern Lights in winter, or planning to supplement your cruise trip with kayaking and walking, Norway's weather can be unpredictable. Be sure to take a light jacket and a waterproof layer as well as comfortable clothing to help you make the most of your activities.
Ready to explore Norway's beautiful fjords for yourself? There's over 1000 fjords waiting for you with something for everyone, from National Parks to Northern Lights, UNESCO World Heritage Sites and incredible hikes like Pulpit Rock. Find the right Norwegian fjord cruise for you and start planning your perfect trip.