A favourite of many, classic Black Watch has a loyal following, drawn by the sleek, classic lines and spacious decks. The ship epitomises elegant and stylish cruising.
To keep Black Watch on top form she will be entering dry-dock in Hamburg, Germany in November 2016 to undergo engineering work, maintenance and refurbishment. Several new public areas and guest facilities will be created alongside a long list of other enhancements.
We're sure you'll love the improved facilities on board Black Watch. Rest assured that the ship will not be spoilt; the intimate and traditional style will be fully retained. Find out more about some of the planned updates and refurbishments below.
Rooms
A key focus of the dry-dock period will be to enhance the 423 guest rooms on Black Watch. A new interactive in-cabin TV system will be installed across the ship, equipped with the latest features and connectivity. Bathrooms will be refurbished, and safes and mini-bars will be featured as standard.
Restaurants
'The Braemar Garden Café' will be converted into a new restaurant, named 'Brigadoon', referencing Fred. Olsen's close Scottish connections. A stylish and intimate self-service dining experience for up to 54 guests, the restaurant will feature new, more contemporary décor. A wide range of British and international cuisine will continue to be served here.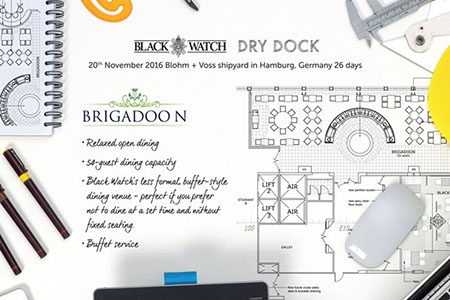 The 'Black Watch Room' will replace 'The Braemar Courtyard' with a speciality dining area, with seating for up to 46 guests, offering made-to-order á la carte dining, including expertly-prepared steaks and seafood. Behind the scenes a new galley will be dedicated to servicing this special venue.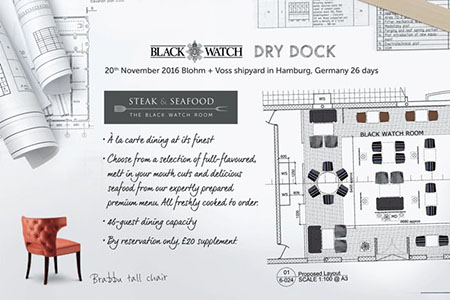 The main, 340-guest restaurant on board Black Watch – The Glentanar – will undergo extensive refurbishment with a new, more spacious layout. New furniture, carpets and curtains will give the room a fresh look and feel.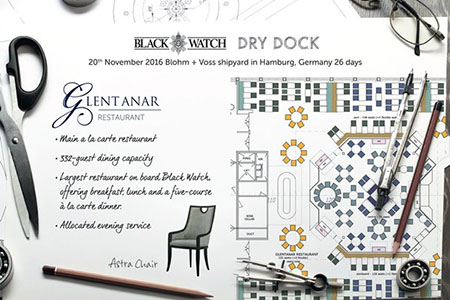 The existing Grill restaurant, situated by the main pool area, will be rebranded and redesigned too. This dining venue will now be called 'The Poolside' and offer a new, Mediterranean-themed culinary experience.
All dining venues will, of course, still serve a wide range of tempting dishes, expertly prepared to Fred. Olsen's renowned high standards.
Lounges & Bars
Considerable attention will also be paid to the various bar and lounge areas on board Black Watch during the dry-dock.
On Deck 9, 'The Observatory' Lounge will have refreshed decor and fittings; while the Lido Bar, located on Deck 7, will benefit from an extensive refurbishment, with new furniture, fabrics and carpets fitted throughout. There will also be a full-width sliding door installed, creating an appealing open space leading out to the aft of the ship.
The Morning Light Pub – a feature on all the Fred. Olsen ships – will be moved to the area currently occupied by the 'Braemar Lounge' on Deck 6. Key features of the new, more spacious Morning Light Pub will be new furniture and fabrics, and a new bar. The area vacated by the existing Morning Light Pub will be renamed the 'Neptune Bar'.
To further enhance the guest experience, the Marina Cinema on Deck 3 is being completely updated with the latest '4K' and '3D' technology installed. Along with high definition films, 3D movies and other 3D programmes will be scheduled to take advantage of this new facility.
Finally, the Guest Services area on Black Watch – the 'hub' of the ship – will also be updated, making it more inviting and user-friendly for guests.