Fred. Olsen Cruise Lines' On Board Marketing & Activities Manager Jennifer Daulby will be a familiar face to many from her various roles on board over the years.
We caught up with her to discover some stories from the sea and find out more about her current role at Fred. Olsen's office in Ipswich.
"Right from being a little girl and doing the usual tap and ballet classes, I realised that entertaining was the only thing I wanted to do. I left school after my GCSEs and managed to secure a place on Preston College's Dancers and Teachers of Dance course, which meant I was dancing from 8:30am to 6:00pm. I loved it!
During this time, I managed to get work as a backing dancer performing on large-scale tours such as the Smash Hits Pop Party Tour. After college, I landed my first professional job as a dancer.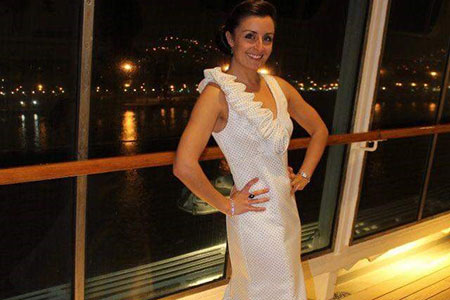 My first taste of Fred. Olsen came in 2008; I was lucky enough to choreograph and install shows for the first show team on board Braemar after she was 'stretched'. I then joined the ship in 2009 as part of the team, taking on the roles of Dance Captain and Company Manager.
Having realised that the combination of hospitality and entertainment was something I thrived upon, I was eager to find a way to combine them both. In 2011 I joined Balmoral in Singapore as a Hostess and the rest, as they say, is history. I was eventually made Cruise Director in 2014, my first cruise being a beautiful sailing to Iceland with good weather and no hiccups. My second cruise was a different story! The Black Sea voyage that year was a real baptism of fire – everything that could possibly be sent to test us was sent, including the cable car breaking down in Santorini!"
The opportunity to work at Head Office came up in late 2017, and it was an offer I couldn't turn down. I now look after the enrichment and activity programmes for the fleet. My role involves guiding the on board teams in their procedures, developing new activities and themes, and sourcing and booking local acts to perform in port and give guests an authentic taste of the local entertainment.
Though I am office-based, I can often be busy meeting with external providers and having conference calls with Cruise Directors, or perhaps be found on board the ships implementing new activities or policies. The team here are great fun, and it's not often I have the same day twice – my role is continuously developing as new entertainment opportunities crop up. For instance, I have been part of the planning for our 'Four Fred.s in Funchal' event in April 2020. I can't give too much away at this stage but guests can look forward to being entertained in several ways in lots of different places around the port".
"Even away from the energetic world of entertainment, I like to keep active. I live in a stunning part of Suffolk with lots of lovely walking trails including a beautiful river walk, so a lot of my free time is spent with my two-year-old French Bulldog, Frankie the Frenchie. Being originally from Liverpool, I regularly brave the M6 to visit family and friends and try out the numerous pop-up restaurants in the city, too".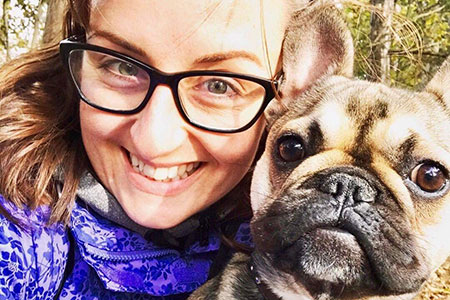 "Norway remains my favourite destination; nothing has yet compared to the first time I sailed into the Trollfjord".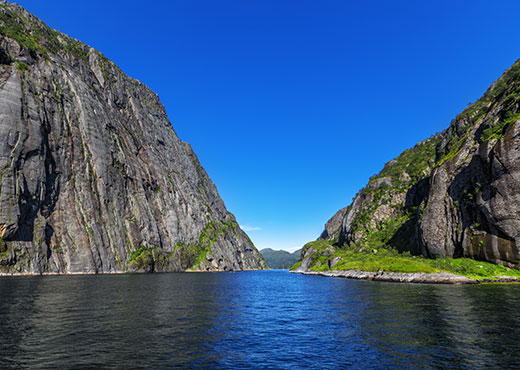 "I have been lucky enough during my time on board to sail on no less than five Grand Voyages and ticked the top destination off my list in 2017 when I visited Buenos Aires, Argentina. However, Norway remains my favourite destination; nothing has yet compared to the first time I sailed into Trollfjord. I was standing with guests on the bow of Braemar while the Captain played Grieg's In the Hall of the Mountain King over the PA system – an experience that will stay with me forever. Top of the list now is New Zealand".