In October 2018, a selection of journalists joined Boudicca for her 'Authentic India' cruises. Here, freelance journalist Chris Hutchinson writes an article for the Bradford Telegraph & Argus and the Oxford Times; and freelance journalist Antony Collins writes for WeekendNotes review site.
Antony Collins joined Boudicca in early October, flying from the UK to Abu Dhabi, before cruising on to Dubai, and then Porbandar in India. As he says, "The contrast between the modern, oil-rich UAE, which boasts the world's tallest structure – the Burj Khalifa at 828 metres - and Porbandar could not have been greater." Antony draws on the fascinating variety of culture as he samples his 'fascinating taste of India' at "the fishing village close to our docking point, offset by the majesty of the temples, the bustling colourful streets - complete with cows - and, of course, Gandhi's birthplace museum. Porbandar also gave us our first experience of riding in an auto rickshaw Tuk Tuk, which have also been described as 'India's Ferrari'."
Whilst in Porbandar, he also encountered a cow, considered a sacred beast in the Hindu religion, and which are able to roam freely as they please, strolling through a market area – "…a far cry from a visit to my local Tamworth market in Staffordshire - you certainly don't expect the 'meat' to be wandering around on four legs!"
Antony became fully acquainted with Boudicca, enjoying the cuisine, entertainment and facilities on board, before arrival into Mumbai – the bustling capital city, housing more than 21 million people. As Antony observes, "the legacies of former British rule are clearly evident, including buildings modelled on St Pancras railway station and Big Ben." From here, Boudicca sailed on to Murmugao, Goa; and Kerala – firstly, Kochi, where he "enjoyed a scenic backwaters canoe ride that included views of its famous Chinese fishing nets…" before landfall in Vizhinjam, 50 miles from the southern tip of India.
Finally, they stayed overnight in Colombo, Sri Lanka, before flying home – taking in a voyage "…that covered an impressive 2,244 nautical miles in just 14 days".
Chris Hutchinson boarded Boudicca later in October in Mumbai, where he was warmly welcomed by Boudicca's crew. He took a Shore Tour titled 'Delivery with the Dabbawala' – a lunchbox delivery man takes freshly cooked meals to office workers throughout the city, something which is entirely unique to Mumbai.
Chris comments "We joined the Dabbawala, boarding a train at Mahalakshmi station, meeting our man in the luggage carriage. During the 15-minute journey to Churchgate Station he told us he was one of 5,000 who deliver cooked meals in lunch boxes before 12.30pm. In total there are over 200,000 daily deliveries. Alighting from the train, the challenge is to negotiate your way through a maze of traffic…the only highway code is reserved for the sacred cow!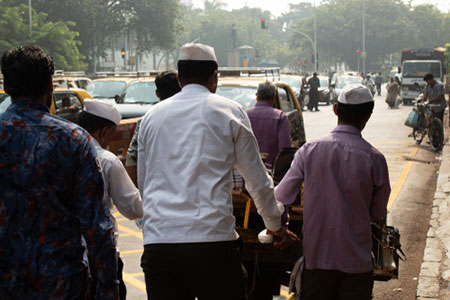 We accompanied our Dabbawala on his deliveries, I donned a white 'Gandhi hat' and helped to carry his lunch boxes, he then made me an adopted Dabbawala! He told us that he only delivered one wrong box to a lady, who is now his wife..." showing the wonderful stories one can stumble upon if you simply open your eyes to it.
From here, the mesmerizing sights of Mumbai continued, as Chris visited both the Gateway of India, "an imposing monument completed in 1924, commemorating the visit of King George V", and the Taj Mahal – an elegant and instantly recognisable landmark.
The cruise continued on to Goa – where the fascinating sights and sounds of traditional musicians and dancers greeted guests, before Chris joined an excursion to the Basilica of Bom Jesus, "a UNESCO World Heritage site where St Francis Xavier's relics can be seen".
During the cruise, Chris took time to experience life on board Boudicca, here he says "Dusk saw me in the deck Jacuzzi watching an amber sunset, followed by a mouthwatering 5-course à la carte menu, and a variety of top evening shows", before it was time to discover Alappuzha, and a trip on an authentic houseboat – "with stylish interior of teak, mahogany and polished coconut. We cruised lakes, rivers and narrow canals, passing tiny villagers, observing activities of daily life, while eating fried banana and tapioca crisps". It certainly sounds idyllic!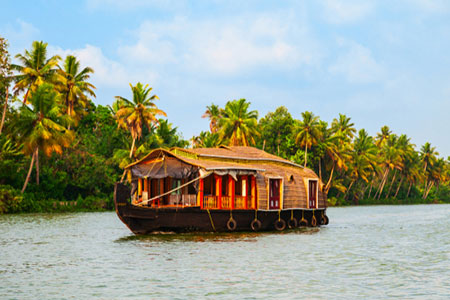 The final stop was in Kochi, before cruising on to Colombo, Sri Lanka, where Chris had stayed at on a previous visit many years ago; and recommends a city tour as the best way to see the sights. The final evening tour was to the Galle Face Hotel – "a masterpiece of Victorian architecture", where they were entertained by "Kandyan dancers and musicians. The combination of music and dance routines reflected different regions throughout different eras, their national costumes and saris were dazzling, and a fitting finale."
We set sail again in February 2020, will you be joining us?